The Indian growth story is marked with a very interesting paradox – accelerated economic progress on one hand and extreme social and economic inequity on the other. Indian Development Center has an objective of making all its stakeholders including the most disadvantaged, a part of this great Indian growth story. This team of highly experienced, motivated and dedicated professionals together bring on table a passion to lead our nation to even greater heights as part of the global prosperity. The not for profit organisation Indian Development Center (IDC) works with range of stakeholders.
Theory of Change
IDC follows an in-house Results-Based Management as an integral part of its Programme and organization management approach to work on any environmental problem or social change that it has been assigned. The approach is of international standards and has been developed over time, incorporating each of the learnings and experiences of IDC. The following schematic shows the same.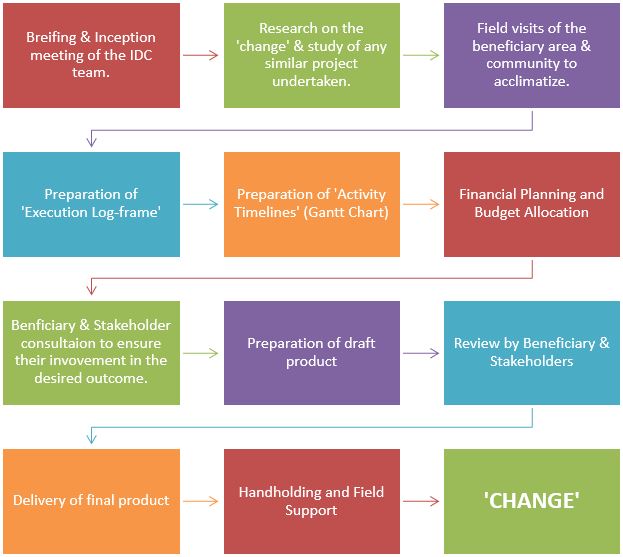 Social Inclusion: Social inclusion is the core output that IDC thrives to give. It would not be wrong to say that inclusion, of the underprivileged, in India's development growth story is the reason of IDC's existence and the same is reflected in its Objectives too. To provide the vulnerable groups and underprivileged communities a chance to develop along with the country and access to basic services just like the rest of the society. This is achieved by the socio-economic sensitive processes and products developed by IDC during the course of each project. As a result, every beneficiary in the community gets equal access to the opportunities, resources, services, and institutions to develop themselves and as a result contribute their share to the country's growth.
Development of all avenues: Economic growth is just one of the avenues under the broad domain of development. Sustainable development of communities and their individuals requires other development parameters such as spiritual development, psychological development, and physical development. Inclusive development of the communities, and the country, with the belief that only the community has the potential to change its stigmas, cultures, and processes.
Capacity Building: IDC has worked so far with many Administrative bodies. IDC has influenced a major part of the future strategy of these bodies, yet there is always a need for constant handholding and on the ground support, especially while addressing unconventional challenges and new sectors.
IDC is dedicated to helping out technically and economically less privileged small and medium enterprises with their sectoral needs. This will be done through Sanitation Business Council of India (SBCI) which is housed in IDC. But this vision won't restrain IDC to collaborate with high value and larger agencies and enterprises.
These capacity building exercises of IDC also result in "a potent and abiding network". However, IDC envisages to join hands with already existing networks, especially those addressing unconventional challenges and new sectors, it will continue to be part of networks on issues on which IDC has the expertise and experience.
To be known as a Knowledge-based organization, IDC focusses on "Research and Development" as well. This allows IDC to develop practical and user-friendly Knowledge products. All of the IDC team is dedicated to this purpose under the leadership of Mr. Akhilesh Gautam, Managing Director of IDC. He himself has played important roles in various groundbreaking and pioneer resource materials. This exercise will also help in "Capacity building of IDC team.", too.
It is easy to make out now that IDC will not work as a mere resource support & development organization. It will also an active Programme planner together with partners at the grassroots and will support the partners through "Partner Capacity building", research and documentation will be a strategy in the next five-year period.
As we build capacities, Partner accountability will also be strengthened as a by-product.
Rights of the Indian People will continue to be a preferred outcome, all the more so with the Government of India guaranteeing as rights to education, to employment, to social security, to information and to have a Swachh Environment and good health.
IDC will also work to maintain an employee friendly atmosphere in the organization because it believes that all good things start from within. A happy work environment is more productive and efficient. This strategy propagates as a ripple effect during IDC's interactions with its clients and beneficiaries at grassroots.